As the new (aka "redesigned") SAT nears, College Board has begun to release official practice tests for the exam. While it's not yet clear how accurately these tests will reflect the new exam, how you would score them or what your scores would mean, they are still your most important asset if you are preparing for the new exam now.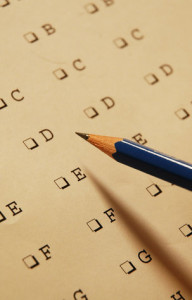 As I've written before, I don't advise preparing for the new SAT until it's been officially administered a few times in 2016. Nevertheless, if you've decided that you will be preparing for the new test now, here is where you can find every released practice test.
Remember to take each test timed and review missed questions carefully before moving on to a new test. Keep a record of the questions you've missed and how to solve them so that you can go back and review them over time.
The first four official tests are available, along with additional questions and advice, in the new Official SAT Study Guide 2016 Edition.
You can also find these four tests online for free, however. They're available here with answer explanations, although these explanations are often less than optimal.
There is also a fifth exam—this one is technically a redesigned PSAT, but it's nearly identical to the new SAT. The only difference is that it's a little shorter. You can find it here.
The College Board has promised to release another four tests as 2015 moves along. Whether or not they actually release any more remains to be seen, but I will update this information and let you know right away if they do.